Sodium Carboxymethyl Cellulose is a water-soluble polymer and cellulose ether. It has great suspension and thixotropic properties that can keep the liquid system stable. Besides, it's also a good thickener and emulsifier which can replace Xanthan Gum, Guar Gum, Konjac Gum and Pectin, etc.
Now, let's introduce some properties of Sodium CMC which are very important for transportation and application.
1. Identification:
Full Name: Sodium Carboxymethyl Cellulose(CMC), Na-CMC;
CAS No.: 9004-32-4; HS Code: 39123100; INS No.: E466
Molecular Formula: [C6H7O2 (OH)2 OCH2COONa]n
Structure: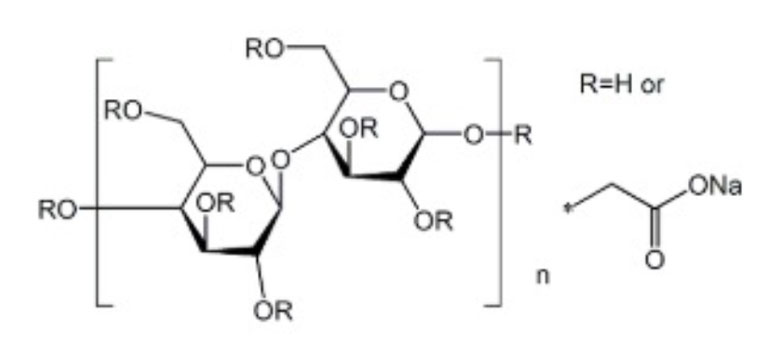 2. Physical/Chemical properties:
Appearance: White to cream fine powder/White to yellowish granular
pH:6.0-11.0
Density: 500-900g/l
Odor: Odorless
Water Solubility: Soluble in water
3. Risk and Safety Statement:
Risk Statements: 40
Safety Statement: 24/25
WGK Germany: 1
F: 3
Autoignition Temperature: 370℃=698°F
Toxicity: LD50 oral in rabbit: > 27g/kg, LD50 (guinea pig, oral): 16g/kg
Explosion Limit-lower: 165 (dust)g/m
Melting Point: 300℃=572°F
4. Application:
Food additive used as thickener, emulsifier, suspension, etc.
Using in liquid detergent and powder detergent;
Using in coated paper making as surface sizing, in tissue paper as wet end additive.
Besides, it can also be used in textile, ceramic, mining and oil drilling industries, etc.
The above information are the basic description of Sodium CMC properties. If you need further help for Sodium CMC technical support, please contact us freely. Both granular and powder Sodium can be provided by SINOCMC.
SINOCMC Team