Sodium Carboxymethyl Cellulose is a kind of high molecular polymer and cellulose ether. It can be widely used in Food industry, Detergent industry and Pharmaceutical industry. But customer isn't familiar with pharmaceutical grade Sodium CMC compared with API. We would like to introduce more about this application now. Sodium CMC can be used in pharmaceutical tablet, pharmaceutical capsule, eye drops, oral liquid etc. And many customers ask for USP, EP, BP, GMP for Sodium CMC. Let's explain more details here:
1. USP=United States Pharmacopeia, USP just requests Sodium content should be 6.5%-9.5%, calculated on dry basis, so we just need to control it during production.
2. BP=British Pharmacopeia, BP requires Sodium CMC content at 6.5%-9.5% and purity(active content) more than 99.5%. Definitely, we can satisfy this requests.
3. EP=European Pharmacopeia, EP has the same request as BP.
4. GMP=Good Manufacturing Practice, it's the whole high level standard for manufacturing plant, workers, regulation, environment and finished products. Besides, because Sodium CMC belongs to pharmaceutical excipient in China, not API(active pharmaceutical ingredients) in China, China FDA(Food and Drug Administration) won't audit Sodium CMC factory and issue GMP. So China Sodium CMC can't get GMP certificate for this product. But our purified grade CMC can meet pharmaceutical standard well, free sample can be provided for your testing.
5. ETO testing=Endotoxin Testing, no Chinese Sodium CMC plant has ever done ETO testing so far, so our Sodium CMC can't be used in injection drugs.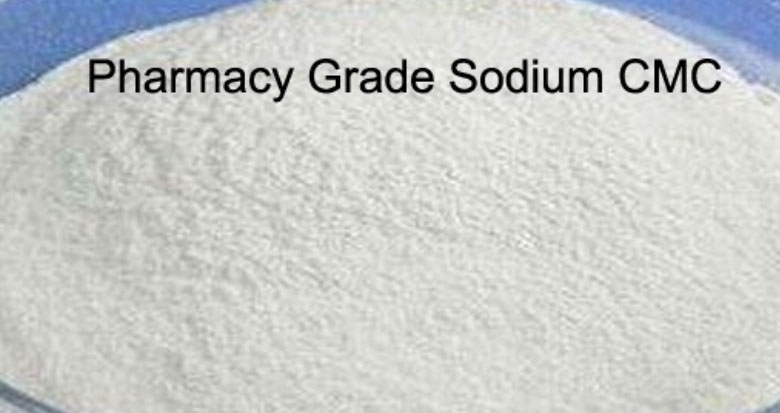 Both utral low viscosity and highest viscosity Sodium CMC can be provided by SINOCMC. Free sample and small quantity trial (like: 5kg, 10kg, 25kg)order can be also provided by express, like FedEx, TNT or DHL. If you have any demand for pharmaceutical grade Sodium CMC, please contact us freely, most suitable type CMC will be always provided.  
SINOCMC Team